Enterprise EMEA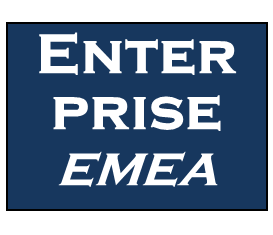 2017 will take place on May 23 in London. It is hosted by Widebridge Group, a boutique investment bank focused on M&A and capital raising for technology companies. Among the speakers and attendees there will be representatives from companies like: Microsoft, Gemalto, and SAP as well as investors from firms such as Atomico, Lakestar, Index Ventures, Dawn Capital, KKR, and Blackstone.
Enterprise EMEA is an invite-only conference focused on enterprise software. It is meant for leaders in enterprise technology to connect, show their ideas and talk about industry trends. Attendees include the top EMEA region enterprise technology firms from growth to later stage, decision makers of top EMEA enterprises, top VC and private equity investors, and M&A managers of the world's biggest technology firms.
According to the organizers, there is a lack of enterprise software events which enclose the whole enterprise. Therefore the event will be focused on enterprise technology – for startups, investors, and the ultimate buyers of these companies to all meet to raise more investments, more knowledge exchange and more contracts.
Many firms which participated in the conference last year have raised large rounds of funding or exited with big acquisitions over the last 12 months, such as London's Weaveworks, which raised $15 million last May from Google Ventures and Accel, or PNMsoft, which was acquired by Genpact.