For the 3rd consecutive year, in Belgrade will be held big international venture conference oriented toward new technologies, new media, investors and startups called Belgrade Venture Forum (BgVF).
BgVF is the largest investment forum in the region, dedicated to promotion of entrepreneurship and investments in innovative companies and ideas. Many notable speakers and investors will take part in this events, among them are Luigi Amati (CEO at Meta Group), Dmitry Chikhachev (Co-Founder and Managing Partner at Runa Capital), Maxim Gurvits (Partner at Teres Capital), Dylian Dimitrov (Founder at Eleven Startup Accelerator), Jure Mikuz (Managing Director and Partner at RSG Capital) etc.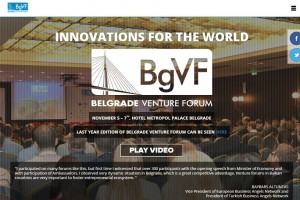 Belgrade Venture Forum announced that among 133 applications, independent investment jury has handpicked 33 best projects from 11 countries and gave them opportunity to pitch their ideas in front of potential investors.
A-LINK SAVJETOVANJE / ASW ENGINEERING / BALANCIQ / BIG SCREEN TOOLS / BIOIRC DOO KRAGUJEVAC/ CITYZENIC / CODEWELL UNLIMITED DOO / COFA GAMES / EDGAR / EMEDY / GEOKRULJ D.O.O. / HOMIEE / HYDRATECH / IMPULSE / INFORA RESEARCH GROUP / INSHAPE / LABSII / MEDIAWORKS D.O.O. /MICROSYNTECH / PITCHSTACK / PROSPEH D.O.O. / PROWORK DEVELOPMENT / SEMNE DESIGN SRL /SENSE / SPECTATOR / TENDER5 & CO. D.O.O. / TIMEMACHINE / TOURISM4ME / USABILITYTOOLS /VETERINARSKA STANICA KOKER / VICTOR PRODUCTION LLC / VRTII CORP. / YANADO
We can say that in the period of 5.11-7.11 Belgrade will be center of VC industry in this part of Europe. Event will be held in hotel Metropol Palace. Regular ticket price is 235e and organizers offer discounts if you buy several tickets. Event organizer is Serbian Venture Network.